By Astrid Petersen & Jayme Chapman
What's New??
HOT OFF THE PRESS!!! – NEW UWC Catalog
Universal White Cement is proud to present to you all the very first edition of our 2017-2018 Full Product Catalog!
This exciting new tool, suited for our Installers and Distributors, showcases every product that we offer. From cements, additives and aggregates, to glass, quartz, abalone shell, tools, accessories, bond coats and more we truly can cover all of your pool plastering needs. This 44 page catalog includes Item Numbers for easy reference in ordering and you can also view a web version by clicking on the photo to the right! Be sure to ask your local sales rep for a copy!
ICE, ICE, BABY!
Summer Heat has arrived UWC has your plaster crew covered with Universal Ice Set Delay! By adding Universal Ice to your plaster or pebble batches on a hot day your plaster crew can control the setting of the material and allow for additional finishing time allowing for better quality control.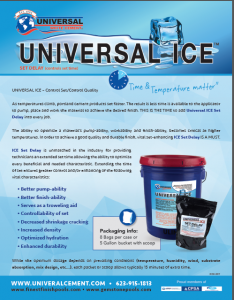 Contact your local sales rep for pricing and details and find more information on Universal Ice and our other great plaster additives on our website page : www.universalcement.com/additives