By Astrid Petersen & Jayme Dykes
What's New??
HOT OFF THE PRESS!!! – NEW UWC Catalog- Version 2 and New Finest Finish Blends Flyers
Contact your sales representative for copies of our newest version on the Universal White Cement Full Product Catalog and all new updated Finest Finish Blends flyers.
NEW PRODUCTS AVAILABLE!
We are proud to have launched new products this year:
Pebble Base Series & Pebble Base Plus w/ Pebble Radiance Series (Texas Market Only, Coming Soon Elsewhere)
Click for Full Flyer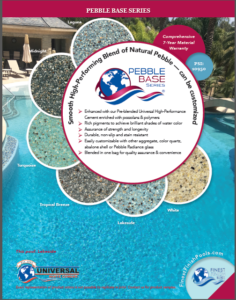 Pebble Base and Pebble Base Plus042618
Sparkle Quartz w. Blue Star Series ((Texas Market Only, Coming Soon Elsewhere))
Click for Full Flyer: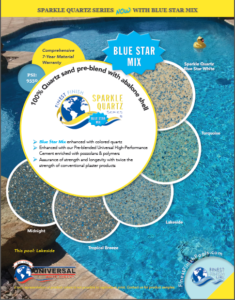 New Colors in Micro Fusion & Radiant Fusion Series: Midnight (Bahama Nights) & Turquoise (Belize Blue)
Click for Full Flyer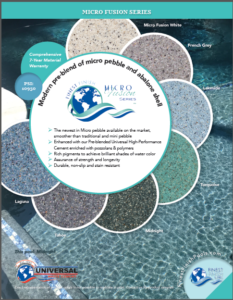 Radiant and Micro Fusion032318