UWC ADDITIVES
The "Secret Sauce" that Creates High Performance Materials
Developed specifically for the swimming pool industry to strengthen plasters and finishes, to reduce curing time, and to increase matrix density, creating the perfect formulation for a reliable high performance product that is second to none.

SET DELAY
Time & Temperature Matter!
Optimize pump-ability, workability, and finish-ability depending on temperature with Universal Ice.

CRAZE GUARD
Preserve a Clear Finish!
Craze Guard, Pozzolans and Polymers combo, designed for silica finishes that only floats silica aggregates.

STRENGTH
Build in Durability!
UNIVERSAL WHITE CEMENT SET DELAY
UNIVERSAL ICE – Control Set/Control Quality
As temperatures climb, portland cement products set faster. The result is less time is available to the applicator to pump, place and work the material to achieve the desired finish. THIS IS THE TIME to add Universal ICE Set Delay into every job.
The ability to optimize a material's pump-ability, workability and finish-ability, becomes critical at higher temperatures. In order to achieve a good quality and durable finish, vital set-enhancing ICE Set Delay IS A MUST.
ICE Set Delay is unmatched in the industry for providing technicians an extended set time allowing the ability to optimize every beneficial and needed characteristic. Extending the time of set ensures greater control and/or enhancing of the following vital characteristics:
Better pump-ability.
Better finish-ability.
Serves as a troweling aid.
Controllability of set.
Decreased shrinkage cracking.
Increased density.
Optimized hydration.
Enhanced durability.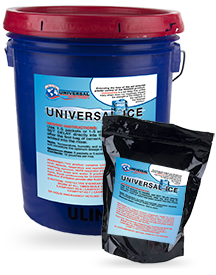 While the optimum dosage depends on prevailing conditions (temperature, humidity, wind, substrate absorption, mix design, etc…), each packet or scoop allows typically 15 minutes of extra time.
UNIVERSAL WHITE CEMENT CRAZE GUARD
CRAZE GUARD – For Silica Finishes
A combination of pozzolans and polymers designed for reducing crazing and cracking on marble, quartz and pebble finishes.
Benefits:
Pumps like Plaster works like Plaster.
No additional Pump aids necessary.
Compliments other Pozzolan Blended Cements.
Adds Strength and Durability to any Quartz Finish.
PROTECTION
High strength is critical during the early stages of cement development known as curing. Studies have found that high early strength in cement is the key to protecting the cement against future attacks that can cause its deterioration.
PSI COMPARISON

UNIVERSAL WHITE CEMENT STRENGTHENERS

U-ADD-POZ – Plaster/Marcite Admixture
Strengthen your pool's interior finish, Naturally
Universal's U-Add Poz™ is a plaster/marcite admixture that will turn the standard cement used in pool finishes into a high performance product. It will make your pool's plaster, pebble or quartz finish stronger and last longer.
U-Add Poz™ was specifically developed for the swimming pool industry. It is the only patented blend of pozzolans and has been installed in over 100,000 pools since 1995. What makes U-Add Poz™ unique is the formulation of different natural pozzolans that are combined in the correct percentages for the maximum results.
The blend of natural pozzolans in the U-Add Poz™ consume and reduce the amount of calcium hydroxide, a normal by product of cement which is weak and can be the cause of many problems. Calcium hydroxide forms voids, which are unstable, weak, porous and are easily attacked by chemicals and aggressive water. Pozzolans reduce the amount of calcium hydroxide and turn it into a cementitious material forming a denser and tighter matrix. The improved water tightness significantly reduces the amount of water and chemicals that can infiltrate the plaster and cause the deterioration of cement. The increased strength of the plaster will provide many years of pool enjoyment.
Benefits:
Turn ordinary cement into high performance cement.
Reduce the amount of calcium hydroxide.
Forms a tighter dense matrix for improved water tightness.
Increased strength and durability of plaster.

Give Your Pool Finish A Proven Advantage – Increase Strength & Improve Durability
PLASTER MATRIX – Strengthen your pool's interior finish, Naturally
PREVENTION
Long-term durability is reached by the patented blend of pozzolans that transform the weak calcium hydroxide, normal in cement into a denser cement matrix. Reducing the amount of calcium hydroxide is the answer to a stronger and longer lasting cement.
Calcium Hydroxide Content


PEBBLE MATRIX – Washing Stage of a Pebble Application
Pebble and Quartz aggregates are being used today in pool mix designs to help create more durable pool surfaces. Pebble Matrix™ was developed to produce a high performing cement to complement exposed aggregate finishes.
A denser cement matrix is the key to a longer lasting pool finish.
Cement, a very important ingredient in these mixes,  is considered to be the glue that holds together the aggregates. Developing a stronger bond to the aggregate and creating a denser cement matrix is vital to a producing a long lasting surface.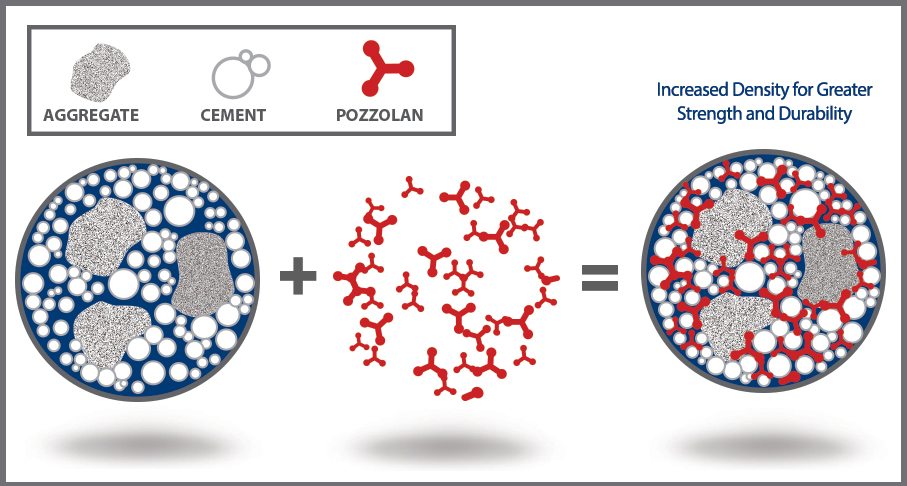 When durability and a long lasting pool finish are important factors in your decision ask your contractor to add Pebble Matrix™.
Benefits:
• Formulated Ingredients.
• Superior Bonding Capabilities.
• High Early Strength.
• Denser Cement Matrix.
• Reduced Check Crazing.
• Additional Working Time.
• Long Lasting Pool Finish.
SET ACCELERATORS
CALCIUM PRILLS
NON-CHLORIDE ACCELERATOR